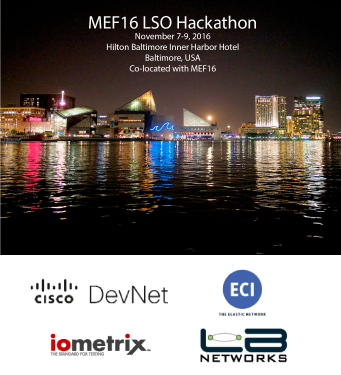 The place for hands-on collaboration and development of OpenCS and OpenLSO implementations!
The MEF is holding its third LSO Hackathon co-located with MEF16 to accelerate the development of LSO-SDN-NFV based solutions for Third Network services. The MEF16 LSO Hackathon will facilitate discussion, collaboration and the development of ideas, sample code and solutions that can be used both in the Open Source projects (e.g. OpenDaylight, ON.Lab, PNDA) and in the further development of MEF specifications for the benefit of service providers and technology vendors alike.
It is free to participate although space is limited to 80 hackathoners. Register for your place now, and our LSO Hackathon leadership will confirm your participation after reviewing your details.
What are the goals?
Accelerate the pace and relevance of MEF LSO open APIs and standards
Strengthen collaboration across SDOs and the Open Source communities
Create more running code for contribution to the Open Source communities and to support reference implementations in MEF OpenCS and OpenLSO projects
What is the format?
Collaborative with an emphasis on sharing tricks, tips and ideas. The goals are shared and its open to everyone - MEF members and non-MEF members. Most importantly, its fun!
What is the scope?
This will be finalized just 2 weeks before the event but will include work on Network Resource Provisioning, Service Ordering, Service Analytics, SD WAN, E-CORD, Performance Monitoring, Unified Communications and more.
Who is the ideal hackathoner?
The recommended background for LSO Hackathoners – one or more of the following:
Open Source project contributors
Software developers from service providers and technology vendors
Network engineers, architects, designers etc. from service providers
BSS/OSS architects
MEF specification contributors
MEF-CECPs (MEF Carrier Ethernet Certified Professionals)
For more details please access our Wiki Page or email Daniel Bar-Lev (This email address is being protected from spambots. You need JavaScript enabled to view it.).
To register for the LSO Hackathon click here.