Open Source & Standards Leaders Advancing Orchestrated Services With Open APIs
Hosted within MEF16, the UNITE Partner Summit brings together key industry stakeholders who are collaborating to accelerate development of standardized solutions that will enable on-demand connectivity and NFV-based services that are orchestrated across multiple network technology domains and multiple interconnected service and cloud providers.
Date, Time, Location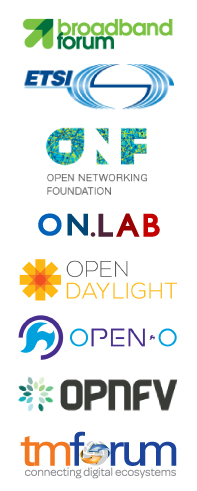 10 November 2016, 10:15AM – 3:10PM at MEF16
Summit Objectives

As a unique segment of MEF16, this event will assemble leaders of prominent  open source projects, standards organizations (SDOs), and MEF member companies to maximize collaboration opportunities, including alignment of market implementations of open and closed source solutions with MEF's published and emerging LSO and connectivity services specifications. Top experts from the Open Networking Foundation (ONF), OpenDaylight, ON.Lab, OPEN-O, OPNFV, TM Forum, ETSI-NFV, Broadband Forum, ECI, Ericsson, Cisco, and other companies will be participating.
Why Attend
TheSummit provides a unique opportunity for professional networking in a collaborative setting and is a means for MEF16 attendees to gain a comprehensive industry view of major SDO and open source initiatives that will shape the future of the communications landscape
Registering for the Unite Partner Summit and MEF16
You will require a MEF16 pass to attend the Summit - please register for MEF16 here.

SUMMIT AGENDA, 10 NOVEMBER 2016

10:15am - 3:10pm

UNITE Partner Summit - Standards & Open Source Solutions For Third Network Orchestrated Services


 

Summit Overview

The first ever UNITE Partner Summit brings together MEF's collaborative partners to talk about major shifts in the networking landscape which require industry stakeholders to not only rapidly create specifications and code, but to also ensure that they avoid inadvertently forming new technological and operational silos that leave the market fragmented and unable to scale to meet the challenges of tomorrow. The Summit highlights immediate examples of this new trend of close SDO and Open Source collaboration and enables the participants to address the challenges that are resulting from this innovative approach to building industry alignment.

Participating organizations include: ETSI-NFV, MEF, OpenDaylight Project (ODL), ON.Lab, Open Networking Foundation (ONF), OPEN-O, OPNFV, TM Forum, and Others

10:15am - 10:25am

Welcome Address


Scott Mansfield, UNITE Program Director, MEF; Principal Engineer, Ericsson

10:25am - 10:45am

Connecting Open Source & Standards -  A New Agile Development Model

MEF has adopted a more agile development model that involves realizing specifications in code more quickly, testing things out in reference implementations involving open and closed source solutions, and providing a feedback loop for further specification development.  MEF has created OpenLSO (Open Lifecycle Service Orchestration) and OpenCS (Open Connectivity Services) reference implementations and is working with prominent open source projects and member companies  to maximize alignment of market implementations with MEF published and emerging LSO and connectivity services specs. And LSO Hackathons bring together software developers and network experts for hands-on development of OpenLSO and OpenCS implementations.

Pascal Menezes, CTO, MEF

10:45am - 11:45am

Debate - The Orchestration Landscape: Open Source Projects & Specifications

This panel brings together key industry SDOs and Open Source projects to address major challenges in balancing the need to innovate and provide solutions quickly in their respective fields of expertise with the need to maximize interconnectivity and interchangeability of those solutions for service providers in the long term in a very complex and rapidly changing ecosystem. How can open APIs be developed that ensure commonality of underlying information models straddling different domains of expertise? How should companies deal with the use of different but rapidly evolving tools in different organizations? How to deal with releases from different Open Source projects and SDOs at different times? These are just some of the challenges being faced today which the panel experts will discuss.

Moderator: Marc Cohn, VP Network Strategy, Linux Foundation; Director, OPEN-O Project | Neela Jacques, Executive Director, OpenDaylight Project | Guru Parulkar, Co-Founder & Executive Director, ON.Lab | Pascal Menezes, CTO, MEF | Steven Wright, Chair, End User Advisory Group, OPNFV


11:45pm - 12:15pm

TM Forum, ONF & MEF Information Model Collaboration– Accelerating Development Of Open APIs & Orchestrated Services

Information models are the key to streamlined interconnectivity and interchangeability but are often taken for granted, especially since they are new concepts for many that have traditionally focused on transport technologies and protocols. However, information models have come to the fore over the past few years in networking SDOs, with their importance increasingly understood and efforts to develop them emphasized. Because de facto information models are easily created in Open Source projects, and SDOs require a significant amount of time and effort to agree information models, divergence between SDOs and Open Source projects is currently almost inherent in the evolution of the industry. Significant efforts have been made in 2016 to reverse this trend of divergence, and this session will describe a ground-breaking approach on this topic jointly agreed to by MEF, ONF, and TM Forum.

Moderator: TBD | Kenneth Dilbeck, VP of Collaboration and R&D, TM Forum | Rick Bauer, Executive Director (Interim), Open Networking Foundation | Speaker Be Announced, MEF
12:15pm - 12:30pm

Broadband Forum Perspective

Robin Mersh, CEO, Broadband Forum

12:30pm - 1:15pm

Lunch


1:15pm - 1:25pm

Introduction to OpenCS and OpenLSO projects

Daniel Bar-Lev, Director Certification & Strategic Programs, MEF

1:25pm - 1:55pm

MEF OpenLSO Reference Implementations - Orchestrating Services Between Providers And Across Technology Domains With Open APIs

Similarly to the OpenCS projects, the OpenLSO (Open Lifecycle Service Orchestration) projects are focused on implementing open APIs to accelerate inter-domain (East-West) automation of all parts of the service lifecycle as well as open APIs for service level and network level orchestration within a control domain. This session will provide a view of the L2/L3 inter-carrier service fulfillment work of the OpenLSO Fulfillment project with regards to the open APIs at the LSO Interlude interface and a presentation on the emerging OpenLSO Assurance project, and how it will enable consistent service assurance across multiple technology domains using open APIs at LSO Interlude and LSO Presto.

Sarit Tager, VP R&D, ECI | Mark Gibson, Amdocs

1:55pm - 2:25pm

MEF OpenCS Reference Implementations - Orchestrating Technology Domains With Open APIs

As part of MEF's Open Initiatives, the OpenCS (Open Connectivity Services) projects are implementing open APIs at the LSO Presto interface to enable LSO-based service orchestration for multiple technology domains. Panelists will discuss examples of how OpenCS is being used to develop requirements and generate APIs - including for OpenCS Packet WAN, OpenCS Cloud Exchange, and OpenCS Optical Transport implementations - and how this relies on collaboration with open source projects and SDOs.

Karthik Sethuraman, NEC | Donald Hunter, Cisco | Mark Abolafia, Datavision

2:25pm - 2:45pm

UCaaS End-End Collaboration Use Case

We review a specific use case of an agile and orchestrated service that we are all very familiar with - Unified Communications (UC) - and see how collaboration between SDOs and the Open Source community is enabling the addition of assurance to create UC as a Service (UCaaS) to achieve the equivalent of the high quality global telephony solutions of today.

Moderator: Pascal Menezes, CTO, MEF | Speakers To Be Announced

2:45pm - 3:00pm

PNDA: BDA Infrastructure For LSO

This session presents the proposition that PNDA is the open source infrastructure for big data analytics in the same way that OpenStack is the open source infrastructure for virtualization. It also explores PNDA's potential impact on LSO.

John Evans, Distinguished Engineer, Cisco | Donald Hunter, Principal Engineer, Cisco

3:00pm - 3:10pm

Closing Thoughts: The Future Of SDO & Open Source Collaboration

Inter-SDO and Open Source collaboration as discussed in the MEF16 UNITE Summit brings closer the availability of agile, assured, and orchestrated services that deliver the capabilities that will enable and support the growth of businesses and the economy in the decades to come. We will sum up the most important challenges in collaboration, potential solutions, and the impact those solutions can have in 2017 and beyond.

Scott Mansfield, UNITE Program Director, Principal Engineer, Ericsson

3:10pm

MEF16 / UNITE Partner Summit Ends