The MEF is pleased to announce that we will be hosting the MEF16 global networking event during 7-10 November 2016 at the Hilton Baltimore Inner Harbor Hotel.
MEF16 Focus
MEF16 is focused on enabling "Third Network" services for the digital economy & the hyper-connected world. These emerging services provide an on-demand, orchestrated, and assured experience with user-directed control over network resources and cloud connectivity. Optimized for real-time traffic, QoS-enabled, secured traffic and integration of value-added network functions-as-a-service, these services are delivered over more automated, virtualized, and interconnected networks powered by CE 2.0, LSO, SDN & NFV.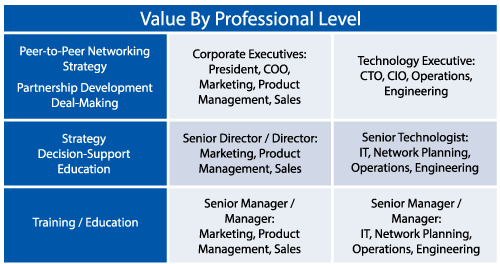 Assembling Dynamic Networking Ecosystem
With a target audience of 1,200+ attendees, MEF16 is the must-attend annual networking event for executives and other senior professionals involved in the network services & technology ecosystem. MEF16 is bringing together a global array of 110+ CE, LSO, SDN, NFV, and Cloud expert speakers from around the world to contribute to the event's program and networking opportunities. Event content and peer-to-peer networking opportunities are designed to appeal to experts from retail, wholesale, and mobile service providers; cloud service providers; mid-to-large businesses; government & defense organizations; technology solutions suppliers; industry standards & open source organizations; investors; analyst firms; the press; and others.
Key Benefits of Attending
MEF16 will uniquely empower industry stakeholders with high-quality information & analysis, extraordinary peer-to-peer networking opportunities, and valuable insight into cutting-edge services & technologies in addition to:
Engaging with world class experts to explore the benefits and risks of industry transformation.
Experiencing live demonstrations of cutting-edge services and innovations
Discovering best practices for navigating through the change.
Improving strategic decision making to address your most pressing cost, revenue and business process challenges.
Expanding your knowledge of MEF's enhanced certification programs.
For sponsorship information, please contact Alysia Bennett at This email address is being protected from spambots. You need JavaScript enabled to view it. or click here.